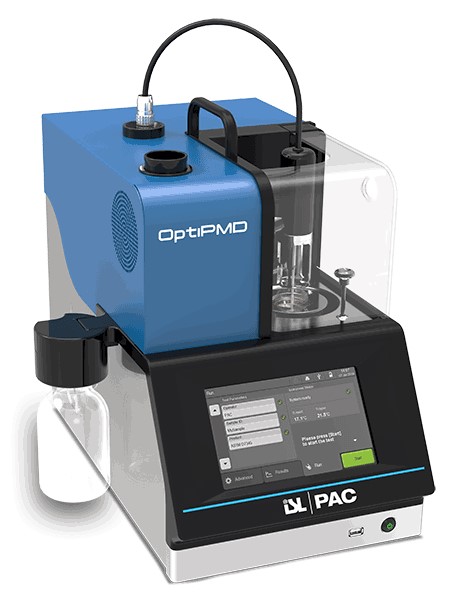 In this interview, AZoM talks to Armando Diaz, product manager at PAC LP about the differences between the atmospheric distillation methods ASTM D7345 and D86.
Can you please explain the basic concept behind ASTM D7345?
The micro distillation method D7345 does not rely on the condensation volume as other traditional or miniaturized technologies do; instead it measures liquid temperature, vapor temperature and differential pressure during the entire physical distillation process in a specially designed flask. First it creates a baseline pressure and then calculates the flow with the differential pressure recorded during the distillation process. From these measurements we calculate volume with thermodynamic equations and finally convert those volume and temperature values to a D86 equivalent report.  This thermodynamic-based approach requires only 10 mL of sample and thus reduces the distillation time to just 10 minutes. Since D7345 doesn't rely on condensate volume there are no errors caused by incorrect sample charge volume, because the charge volume is always calculated as 100% and the precision required of +/- 0.3 ml is quite forgiving compared to D86. Errors from sample charge temperatures are also reduced because there is no need to control the receiver temperature.
How does ASTM D7345 compare to ASTM D86?
There are multiple similarities in how the results can be used. Both methods can be used to certify the most common commercial fuels under 10 ASTM fuel specifications, among these I can highlight Gasoline with up to 20% Ethanol (D4814), Diesel (D975) and Biodiesel blends with up to B20 (D7467), even B100 (D6751) which D86 can't do and requires ASTM D1160, Jet Fuel (D1655) and Synthetic Jet Fuel (D7566), but also turbine and other fuel oils as well as Aviation Compression Ignition test fuels. D7345 is also accepted in more than 10 fuel specs all around the world like DefStan 91-91, Canada, Mexico, India and other countries. In terms of performance the correlation between D7345 and D86 has been tested extensively in multiple ASTM interlaboratory studies as well as in proficiency testing programs around the world, in every case the agreement between both methods has proven excellent.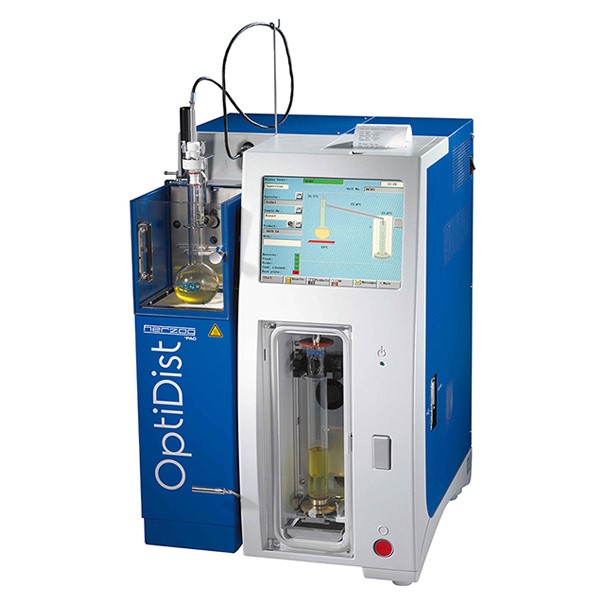 How will these differences benefit the end user if they choose ASTM D7345 over ASTM D86?
By having faster results in hand, end users can take better process decisions or release product faster. Since ASTM D7345 doesn't require a cooling system, like D86 does, the unit is very compact and becomes a portable analyzer which can be installed in mobile labs or free up much needed bench space in a lab. Sample and analyzer preparation is also easier for the end user since there is almost no temperature conditioning and there are no additional steps when loading the sample, in contrast when you use D86 the receiver chamber and the sample have to be at the same temperature, the charge volume needs to be precisely measured and the condenser needs to be cleaned after each distillation; D7345 only requires that the sample is loaded at 10 °C below the IBP, but doesn't require the condenser to be cleaned or to control the receiver's temperature.
Can you give an example of this?
PMD has been deployed by two major armed forces for on-site fuel analysis to test the quality of the fuels they use for aircrafts and other vehicles. D7345 is also used by many pipeline and terminal operators, as well as by most of the 15 largest refining companies for product certification, sample screening and contamination detection. The Micro Distillation method D7345 has also been used by multiple R&D centres and universities when sample size and accuracy are critical for publishing breakthrough research and academic publications. OptiPMD, the latest model recently launched by PAC, is faster and easier to use.
Are there any additional benefits from choosing PAC's products?
PAC has a dedicated team of application specialist, product managers and engineers who continuously develop improvements to existing products and develop new methods and analyzers. Our products are designed with the end-user in mind, making their life easier and adding value by reducing operation intervention, automating repetitive tasks to increase productivity.
PAC has 14 offices and a network of over 100 distributors worldwide, which allow us Our Service Repair Centers, located around the world, are ISO-9001 accredited.
What's next for PAC?
We are always working on improvements to our current offering and developing new and innovative ways to run tests or solve complex problems for our customers so they can focus on higher value activities inside their organization. We are planning on launching 2 new products next year, but it's too soon to talk about them.
About Armando Diaz
Armando Diaz has 20 years of experience in lab and process instrumentation. He studied Chemical Engineering in Mexico City and has an Executive MBA from the University of Texas in Austin. He actively participated in proposing analytical methods for the new Mexican Official Norm for fuels (NOM-016-CRE) as well as in various ASTM D02 subcommittees. Armando joined PAC in 2018 as a product manager for gasoline but worked previously with SICA, PAC's distributor in Mexico. He is based in Vancouver, Canada.
Sources: https://www-azom-com.cdn.ampproject.org/c/s/www.azom.com/amp/article.aspx?ArticleID=18306