BioCal™ Precision Syringes Calibration Service
BioCal™ Precision Syringes Calibration Service is accredited by SAC-SINGLAS
Used for a broad range of applications (from nano-volume sampling through to large volume sampling) across diverse industries, precision syringes are manufactured with a wide range of capacities, termination types and needle sizes.
It is a precision instrument with a high standard of fit between the plunger and the glass barrel. Damages such as fine cracks to the barrel or excessive wear to the needle can result in poor accuracy performance of your syringes. To ensure that displacement volume of your syringes meet prescribed tolerances for accuracy and reproducibility, it is important to calibrate them periodically. BioCal™ precision syringes calibration service is performed gravimetrically and adheres to ISO 8655 standards.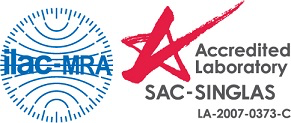 As part of our pre-calibration protocols, your syringes will be inspected for damage to its barrel, needle and septum using high power magnification optical aids. Blocked needles will be cleaned with suitable solvent while leaky syringes will be reassembled or replaced.
BioCal™ calibration service guarantees you with:
Highest level of measurement confidence
Detailed reports with equipment & environmental traceability
Setup for lowest possible measurement uncertainties
Participation in interlaboratory proficiency testing
Full service transparency through frequent external audits
Trained technicians for optimum support & prompt service
Functional Checks & Cleaning
Disassembly & cleaning of plunger
Thorough inspection for cracks and blockage
Leak test
'As Found' Calibration
Reports calibration results before adjustment (digitally controlled syringes only)
SAC-SINGLAS Accredited 'As Left' Calibration
Reports calibration results post cleaning or adjustment
Statement of conformity according to manufacturer's or ISO 8655 specifications
BioCal™ Quality Assurance Commitments
Guaranteed repairs using only original manufacturers' parts
Three months repair service warranty
Attestation of laboratory's competency via Proficiency Testing Programs