BioCal™ Glassware & Plasticware Calibration Services
BioCal™ Glassware & Plasticware Calibration Services are accredited by SAC-SINGLAS
Accuracy of your volumetric instruments may be affected e.g. by aggressive chemicals or by the type and frequency of cleaning. Periodic calibrations (every 1 to 3 years) can help you to understand the true volumes of your volumetric instruments and avoid the pitfalls of research failures caused by subtle errors of these instruments.
The standard ISO 4787 describes the testing of volumetric instruments. BioCal™ calibration service adheres to ISO 4787 standard and helps you define the accuracy of your volumetric instruments against their prescribed tolerances.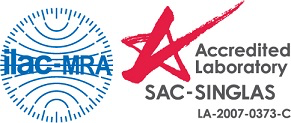 As part of our pre-calibration protocol, our calibration team will meticulously clean all your glass or plastic wares under test. This will enhance uniform wetting of vessel surface with formation of properly shaped meniscus that does not crinkle at its edges. A clear meniscus position, read using high magnification optical aids, allows our calibration team to determine the accuracy of your glass or plastic wares with the highest level of measurement confidence.
BioCal™ calibration service guarantees you with:
Highest level of measurement confidence
Detailed reports with equipment & environmental traceability
Setup for lowest possible measurement uncertainties
Participation in interlaboratory proficiency testing
Full service transparency through frequent external audits
Trained technicians for optimum support & prompt service
BioCal™ Accredited Glassware & Plasticware Calibration Services include:
Visual Checks & Cleaning
Thorough cleaning of glass or plastic wares
Inspection for cracks & deformities
SAC-SINGLAS Accredited 'As Left' Calibration
Reports calibration results with statement of conformity according to ISO/BS/DIN/USP Standard
BioCal™ Quality Assurance Commitments
Highly experienced technicians to perform meniscus settings and scale readings
Attestation of laboratory's competency via Proficiency Testing Programs