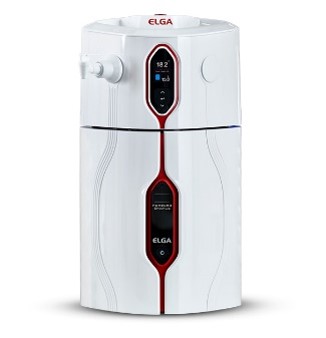 PURELAB Chorus 1 Complete
The ultimate in water purify for up to 480L per day.
Beautifully simple
One complete solution for the laboratory
PURELAB Chorus 1 Complete provides a complete solution from tap to ultrapure water direct from a potable water supply and is ideal for laboratories needing up to 480 liters of 18.2 MΩ.cm ultrapure water. With its simple and ergonomic design and ease-of-use, water can be dispensed directly from the system or from a choice of additional Dispensers.
Features:
Fully Recirculating Recirculation of purified water through our modular reservoir to maintain consistent peak water purity at 18.2 MΩ.cm.
ELGA Biofilter (optional) When fitted, PURELAB Chorus 1 Complete produces water which is free from biologically active impurities.
Single System Solution Perfect single system solution for analytical and life science applications requiring 18.2 MΩ.cm.
Easy Access Front entry service doors provide quick and easy access to consumables.
Space Saving Design Designed to be modular and stackable to save space, whether wall-mounted or under the bench.
Data Capture Data capture via USB for system performance validation and software updates.