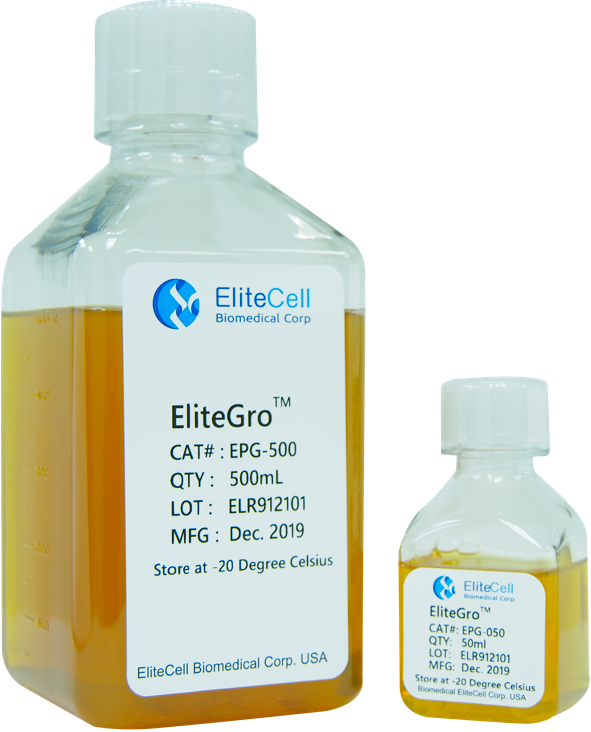 EliteGro™ / EliteGro™-Adv.
EliteGro™ and EliteGro™-Adv. are animal serum-free, xenogeneic-free cell culture supplements for research or commercial development of cell therapies, provide abundant human source growth factors and work as effective replacement for FBS (fetal bovine serum) to support cell expansion.
EliteGro™-Adv. is the advanced product derived from EliteGro™, it does not require the addition of heparin and does not contain any anticoagulant nor animal-derived component in the product or during the producing processes. EliteGro™-Adv. shows clot-free, clearer appearance and good performance in cell culture. It is suitable for clinical studies to avoid xenogeneic components.
Advantage:
• Replace up to 20% FBS with only 5% EliteGro™ or 5% EliteGro™-Adv.
• Lot-to-lot consistency
• FDA DMF filed #032759 Authority letter available for GMP grade EliteGro™-Adv.
• No heparin required for EliteGro™-Adv.
• No animal material, no anti-coagulations used in EliteGro™ and EliteGro™-Adv.
• Stable and safe supply from FDA registered and AABB accredited sources
• GMP grade available for EliteGro™-Adv.